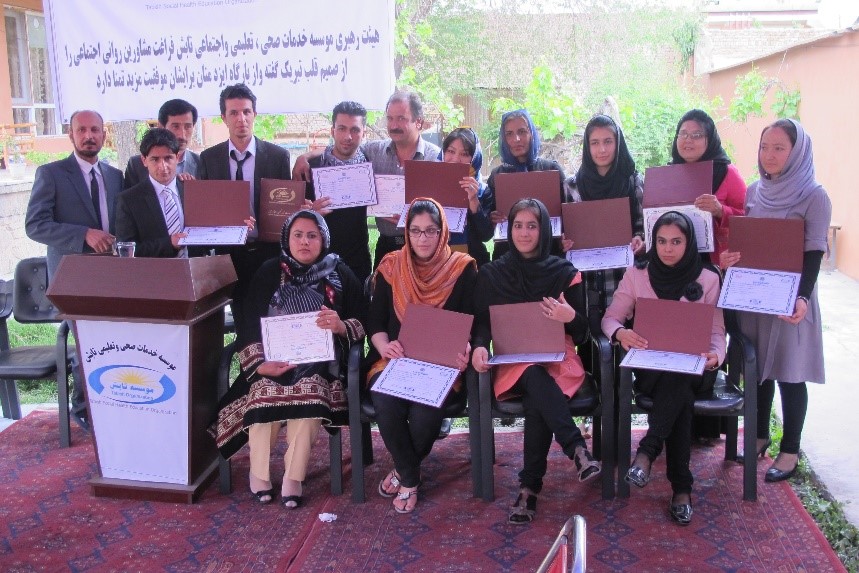 The organization of Tabish  in Afghanistan is a non-governmental , non-political, humanitarian and not for profit organization has been working in the field of psycho-social health , education, human right as well as capacity development, and its programs and activities are based on the rules and regulations NGOs and others governmental laws and procedures approved by the Islamic Republic of Afghanistan. TABISH has been established and registered with the Ministry of Economy in 2009 and it has been registered with the Ministry of Public Health of Islamic Republic of Afghanistan
Tabish with its International Experts and Qualified National Staff therapist,  Psychosocial Counselors, Social Workers, Doctors, Nurses as well as its Committed Experts on Program and Project Management, provides different services in different divisions of Afghanistan. Since its inception in 2009, TABISH is fully engaged to provide better on-demand services to the needy people of Afghanistan Tabish priority interventions is  humanitarian services focus on Disadvantaged Communities and Deprived People, Internal Displaced People (IDP), People living in Post Disaster Camps (PDCs), Prisoners and Children and Adolescent living in Juvenile Rehabilitation Centers and Orphanage Houses as well as Homeless People, especially Drug Users throughout Afghanistan.
Tabish Organization  is committed to remain in Afghanistan and to ensure a response capacity that allows for continued delivery of life-saving aid and critical social protection services to people at risk.
According to the UN's World Food Program, one in three Afghans – around 14 million people – are "acutely food insecure. Factors include ongoing drought, as well as economic recession   -, high food prices, and rampant unemployment.
The rapid escalation of current economical and deep humanitarian crisis in Afghanistan forcing Tabish to make significant adjustments in our services though Tabish experty is mental health and psychosocial, but with massive humanitarian crisis the key priority is for  Tabish beside mental health and psychosocial  , to continued delivery of life-saving aid and critical protection services to people at risk.
This situation is compounded by climate shocks and COVID-19 and have left almost half of Afghanistan's population of 40 million people in need of emergency aid – numbers that are increasing by the day. The current sanction and political situation in most of the 34 provinces of Afghanistan have sparked new displacement as large numbers of people are fleeing and seeking refuge in and around urban centers.